LET'S DANCE!
All of creation moves.
Through the development of precision within our movement, we refine our communication with everything.
Whether developing choreography, improvising or simply warming up, I believe our motion holds the power to unwind trauma, process emotions, channel prayer, manifest our reality and ignite our intuition to bring greater harmony.
Honor your life with the gift of dance.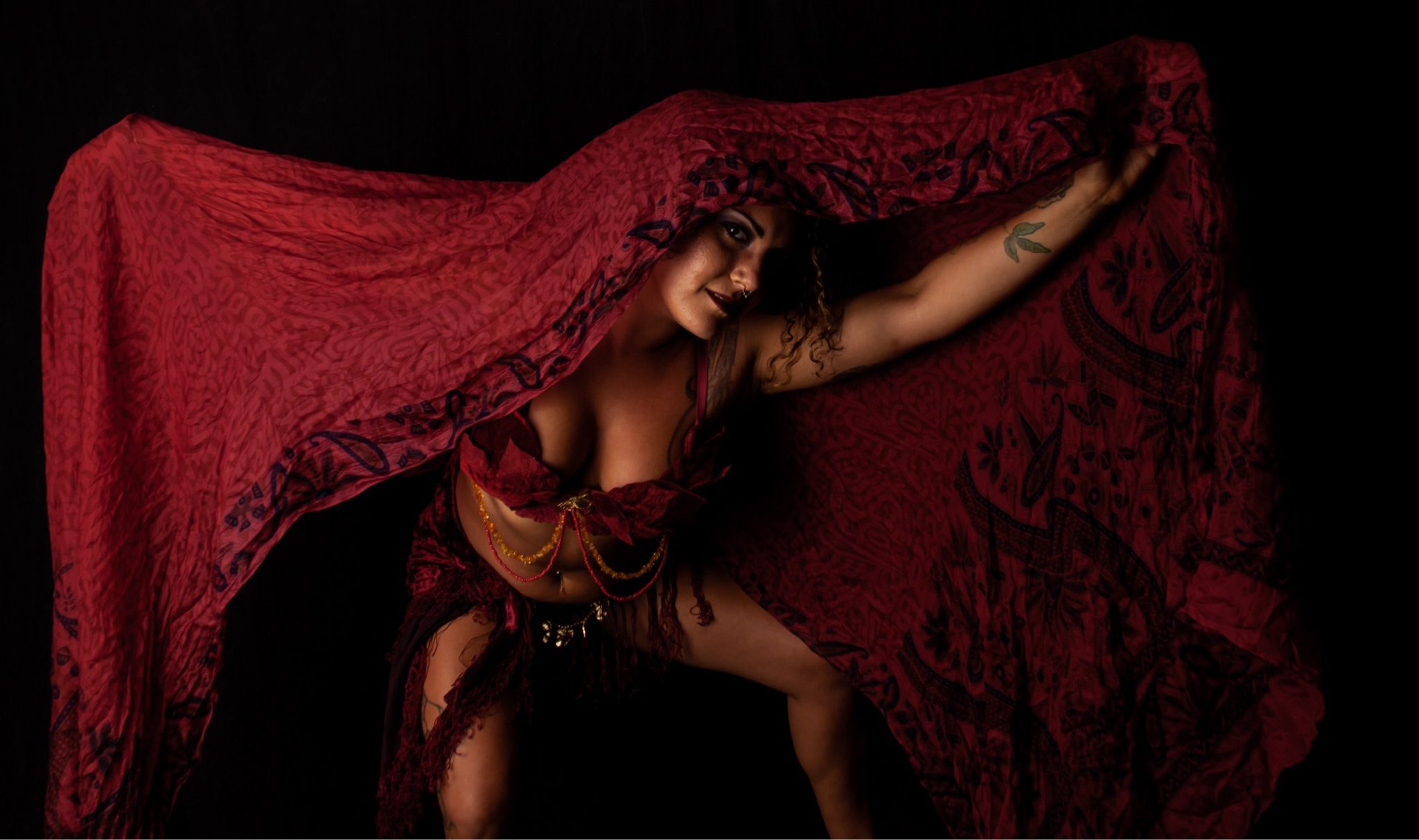 The Derivation of my Dancing:
 We dance as a reflection of compassion through the recognition of each individual's movement. With deep surrender to the wisdom of our body, miraculous healing transformation can occur.  Fundamental techniques can hold a strong container for us to soften into this intuitive space, create common languages to cultivate alignment with one another and promote greater sustainability through providing structural integrity as we integrate new ways of moving. May this practice hold a balance of strength and grace as we give and receive creative energy.
 I dance through life as a facilitaor of artistic and therapeutic movement. T

raining in various techniques for over 20 years and spending thousands of hours refining my gifts in this way has brought me to study, teach, and perform locally, nationally and internationally throughout my years of development.

As a "fusion" dancer,  I have refined a taste within the bountiful buffet of dance flavors

 includeing various forms of Belly Dance, Hip Hop, Modern, Ballet, Jazz, Acrobatics and Flow Arts. My passion motivates the continued education and integration of many fine art forms from around the world into my craft. A foundation of yogic principles, ceremonial practice, earth work, and the influence of internal martial arts, keeps me rooted with the intention to offer nourishment to feed the hunger that heals, and connect us to our most authentic, vital expression. 
P i c t u r e  y o u r s e l f …
With a vocabulary of movement techniques to support the truest expression of your creative desires
Tuned into our body language as a accurate form of communication
Able to perceive and integrate the subconscious through the observation of uninhibited motion
 Tapped into the flow of dance as a means to heal the body, mind, soul and emotions
 Embracing the connection that movement has between all beings as an act of compassion
Confidant to share dance with others in celebration of authentic beauty
 Acutely aware of vibrations that resonate with our vital mission
May my offerings assist your process in manifesting your purest healing intentions through movement magick! 
May split with up to 4 people

1 HR $75
90 MIN $100
2 HR $130
May split with up to 4 people

1 HR $260
90 MIN $360
2 HR $480
Available for private lessons & events
GIFT CERTIFICATES AVAILABLE!



CLASS & WORKSHOP REPERTOIRE



OMotion Immersion
Movement to align with nature's rhythms, honor our existence, and refine intentions through embodiment ritual.
Cultivate a potent space to connect to the source of our creativity, reflect on the cycles of life, unwind trauma, reweave healthy pathways, and integrate prayer into our cell memory through dance. Learn techniques to expand movement vocabulary and open energy pathways. Build community, and somatic communication skills through group improvisation exercises, physical empathy, and shared expression.
Harmonize with the seasons, elements, archetypes, and rites that animate the dynamics of life.
Cycles of Dance:
 A ceremony of dance: grow as earth, flow as water, glow as fire and spin as wind! Let's go on a journey through the birth, life, death and mystery of our movement.  We will develop a fusion of techniques to weave together sequences to charge your creative force. I utilize stylization inspired by various forms of hip hop, modern and belly dance. Harmonize the body, mind, emotions and spirit through connecting with the cycles of nature within your artistic growth. Cultivate the beauty of expression for your healing desires in a container that amplifies your vital mission
Bellydance Fusion:
An experience  to  support the refinement of technique, condition the body and inspire creativity to develop unique stylization influenced by various forms of bellydance. We will build upon a sequence each week with the opportunity to review and learn something new!
Hip Hop Fusion:
 An experience  to  support the refinement of technique, condition the body and inspire creativity to develop unique stylization influenced by various forms of hip hop and bellydance. We will build upon a sequence each week with the opportunity to review and learn something new!
Modern Fusion:
An experience to support the refinement of technique, condition the body and inspire creativity to develop unique stylization influenced by modern, classical contemporary and transnational fusion belly dance. We will build upon a sequence each week with the opportunity to review and learn something new!
Creative Cultivation:
An opportunity to explore the many ways to cultivate creative fluency and ignite intuitive movement. We will focus on improving improvisational skills while enhancing choreography development. Let's gather to heal and harmonize with the influence of world music and various dance forms blended as tools for artistic expression. Classes will have foundational themes, archetypes, prompts, techniques, games and a workout-style continuum of spontaneous combinations. Our time together will gear towards building trust, confidence, appreciation and love for whatever way the body moves. Allow inner wisdom to arise as we feel inspired to improvise!
Fusion Fitness (Open Level):
A fitness class to exercise the body with techniques that promote grace, strength and innovative artistic movement. We fuse together various styles of belly dance, hip hop, classical contemporary, Pilates, Yoga and creative group influence.
Contemporary Cardio:
An exercise class with a contemporary fusion of modern, jazz, lyrical and ballet. We will focus on various technical approaches, cardio, strength and flexibility conditioning.
Sense All Ways:
A time for you to embrace healing with presence in observation and participation of sensory stimulation. Taste, aromatics, sound, visualization, breath, and movement meditation join forces to form a space to nourish the whole self. This integrative experience sharpens our ability to perceive what offers the deepest level of well being and provides us with resources to maintain this integrity.
Conditioning:
Enjoy elements derived from Qi Gong, Hatha Yoga, Vinyasa Flow and  Pilates blended into a fluid series! 
Root to Crown Shakedown:
Amplify your dance with the understanding of energy anatomy. A chakra tune up inspired by chi gong practice and a bellydance style format that provides structure for our intuitive healing to move. 
Creative Translation:
Let's take a journey through a gallery of visionary artwork to see what speaks to you, start a conversation that reveals how you relate to each piece. We will develop the ability to translate any creative expression into movement. Allow the universal language of dance inspire a deeper connection with the art all around you.
Private Lessons:
Celebrate the unique expression that only you can bring forth. Connect your movement style with your favorite music and learn to come into resonance with that which you desire to represent.  Set goals, explore techniques, condition the body and prompt the spirit to speak through your body language. I offer customized facilitation of your creative movement journey.
" Violet's class series are a transformative journey into self discovery and the common thread that unites us all. With deep reverence for the earth, the cycles, connection, intuition and being in reciprocal relationship to all. She holds an incredible container that not only teaches you dance, it unlocks keys within yourself that open up parts of you wishing to be free and untamed. Those keys open up deep listening to divine guidance of dance, surrendering to body's intuitive dance, and freedom to express. Thank you Violet for bringing us all together heal and journey through the temple of dance."
-Deanna Rose
Violet understands that dance isn't merely about technique and performance but also, and most importantly, about life. When you take a class with Violet you are learning, or perhaps remembering, the dance of life. You are learning how to integrate movement into healing, ritual, and self-expression in a container that Violet very intentionally curates that is safe, sacred and transformative.
-Diana McCall
"Give thanks that Violet has discovered within her heart, how to bring her gifts of transformation to the world. Give thanks that she invites participation into this field. Give thanks for the way she guides hearts and bodies through this journey. I feel her love came into my life in the perfect timing, in the perfect way. Thank you for the work you do to align yourself with truth and love and making yourself available to those desiring to be transformed."
-Annie Kin
"Violet's passion and energy lights up the classroom! Her capacity as an instructor allows for her to meet the dancing needs of all levels of experience. Her style is unique and full of her own personal flavor, encouraging and welcoming of others to bring there full and authentic selves into the movement!"
-Rhiannon Burk 
"I have been taking Tribal Fusion Belly Dance, Hip Hop Class with Violet for two months now. What a great investment this has been for me!
There are so many reasons that I love taking her classes and would recommend them. Every class is energetic, athletic and kinesthetic. I look forward to each week to move my body and get a good work out! Violet has a very creative style of dance and invents wonderful choreography. I appreciate Violet's positive teaching style for all different levels from beginners to advanced students. I enjoy her holistic approach to dance for the Mind, Body and Spirit. Dance is medicine, a form of healing and therapy. She ties in ritual with the four directions and the elements Earth, Air, Wind and Fire as part of the dance.
The music that we dance to is an essential part of Violet's dance class experience (other students would agree, the music is great!) She knows some talented musicians and plays their music along with other great tunes! You should definitely check out her classes if you like a well-rounded blend of Tribal Belly Dance & Hip Hop Fusion!"
-Anna Broderick
"I went yesterday and it was amazing! I thought I would be a little out of my comfort zone as a man with no dance experience in a belly dance class, but it was super fun and perfect for men who want to learn how to move their hips!"
-Phil Ferguson
"I've been afraid to dance all my life, and Violet's support, embodiment practices, and style of teaching have all helped me begin to occupy my body. It's seriously revolutionary for me"
-Heather Munshaw
"I love Violet's dance classes.
Skilled, soulful and sultry."
-Ambra Lionstone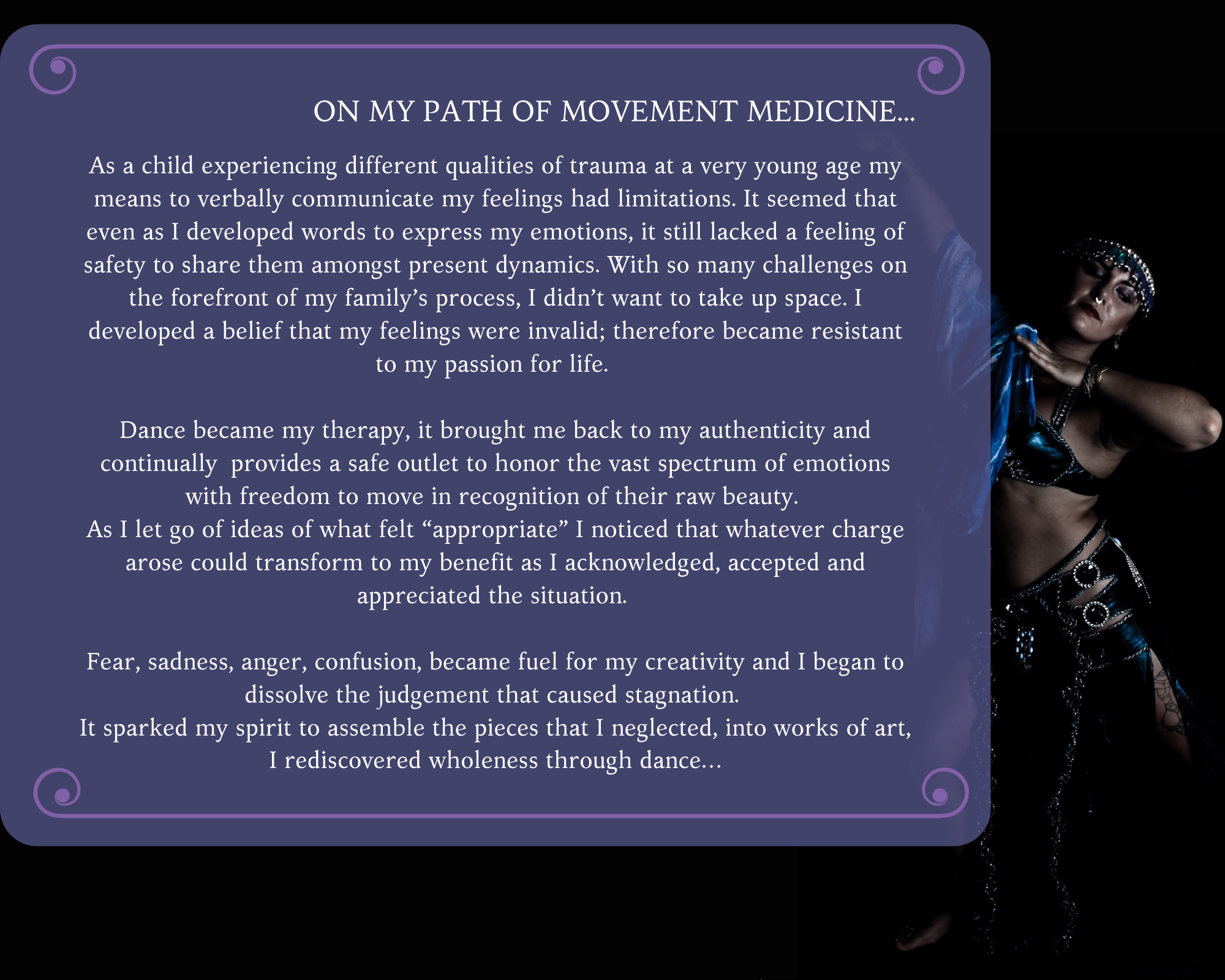 Let's Connect on Social Media!